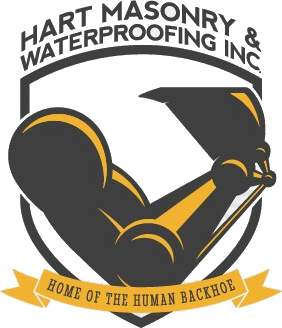 Welcome to Hart Masonry & Waterproofing!
We offer a
lifetime guarantee

on all our Waterproofing Work!
Free Estimates, Custom Tailored Solutions
Basement Waterproofing

Neat Hand Excavation around Exterior
Industrial grade Rubberized Foundation Membrane
High grade P.V.C. Piping
Premium Backfill Only
Alarmed Sump Pump Installation (If Required)

Basement Wall Replacement

High Quality Block
Webs filled for approximately 30% Increased Strength

Basement Wall Reinforcement & Repair

Rebar Reinforcement
Grouting Block Cores where needed
Block Tuck-Pointing Repair

Water penetrating basement walls can cause structural damage to your foundation and can act as a breeding ground for mold.

Clogged drain tiles are one of the prime causes for water back-ups and leakage problems in basements.
Our High Quality Basement Waterproofing Process



Waterproofing does not need to be an invasive procedure. Your home will receive a custom tailored estimate, carefully planned to maintain an orderly job site and provide neat finished results. Our neat hand excavating can save thousands of dollars, preventing damage to the surrounding landscaping, working around obstacles that would be costly to move or replace, and it allows for careful operation around fragile utility lines.
While each job has custom specifications, our waterproofing process remains the same, using only the best industrial grade waterproofing membrane, the highest quality P.V.C. piping in the industry, and the clean premium aggregate for backfill. Our solution is permanent, which is why we are able to offer a transferable lifetime guarantee.
Call Today to Receive Your Own Free Estimate: (330) 225-5252