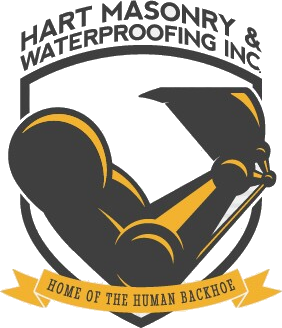 Welcome to Hart Masonry & Waterproofing!
We offer a "Lifetime of Structure, Dry Basement Guarantee"!
Free Estimates, No Pressure Sales
Exterior Basement Waterproofing
Basement Wall Replacement
Storm System Installation & Repair
Tuck pointing & Masonry Repair
Basement Block Wall Strengthening and Repair
Sanitary Sewer Installation

Don't let your basement stay wet and grow MOLD!

Clogged drain tiles are one of the prime causes for water back-ups and leakage problems in basements.
Our High Quality Basement Waterproofing Process



Walls are completely applied with Foundation coating, back-filled to a ft to grade with #57 Limestone or river gravel and only high-grade Schedule 35 pipe is used for footer drains and solid pipe.
Once our work is done your yard will be as neat as when we came or better. Only premium topsoil is used to top off about the last foot to grade.
Call Today to Receive Your Own Free Estimate: (330) 225-5252